DEU1124-IN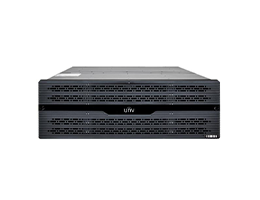 Product Features
High density
The innovative enclosure with 589mm depth and4U height that holds up to 24 disks, is space-saving and applicable to the standard rack-mounted scenarios.

Redundant power supplies
The hot-swappable power supply is designed in redundancy and load balancing mode. Automatic power switching in case of failure and online replacement of failed power supply are supported.

Power protection
Disk poweredonsequentially during system startup, protection from impulse current.

Multistagefan speed and energy saving
Fans with multistage speed are configured in the hot-swappable frame in redundancy mode. System power consumption can be balanced intelligently with heat dissipation calculation to ensure low power consumption and stable operation of the system.
Brand Modal
DEU1124-IN
Storage
HDD
24 SATA Interfaces
Disk Capacity
2TB, 3TB, 4TB SATA Disk, 2TB, 3TB, 4TB NL 7200RPM SAS Disk
External Interface
Management Interface
1 Serial port
Back-end Expansion Interface
2 24Gbps Mini SAS
Controller
1
General
Power Supply
100V – 127V/200V – 240V AC; 60Hz/50Hz
Authentication certificate
CE, FCC, TUV, UL, CCC
Consumption
350W (fully loaded)
Working Environment
10 °C~ 35 °C / 50°F ~ 95°F 20%~80% RH (non-condensing)
Weight
Without HDD: < 19.5 kg; Fully loaded: < 37 kg
Dimensions (H×W×D)
481.6 × 589.0 × 175.0 mm (19.0" × 23.2" × 6.9")
Note: for standard cabinet with 800mm depth or above